SERVICES
Quality
When demanding tolerances are required, Mold-Tech delivers. Quality control is found throughout the entire mold making chain and is enhanced with a dedicated quality lab. With documented-controlled processes and experienced quality technicians, we are able to meet your specific quality requirements.
---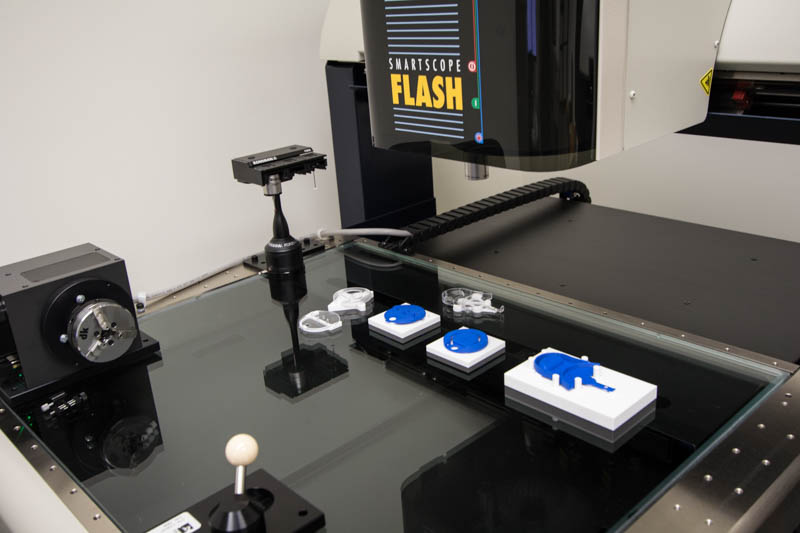 Vision System for ultra-precise inspection
Mold-Tech's in-house quality lab is a controlled environment with capabilities to measure everything from simple parts to the most complex components and features.
The lab is equipped with versatile metrology systems and houses a variety of sensor options including touch probes and non-contact sensors. Inspection routines are simplified with software that extracts part data directly from CAD models assuring maximum accuracy. Our technical expertise and commitment to exceptional customer service create partnerships with a wide variety of customers.
CMM and Vision Systems
Mold-Tech utilizes a Hexagon Global Performance 575 DCC CMM to measure steel mold components and electrodes throughout the manufacturing process. This Coordinate Measurement System is equipped with a Leitz LSPX1C scanning head which allows continuous scanning capabilities for inspecting complex geometry with increased accuracy. The CMM is used to dimensionally inspect all electrodes prior to use in the EDM department.

High-Performance Vision System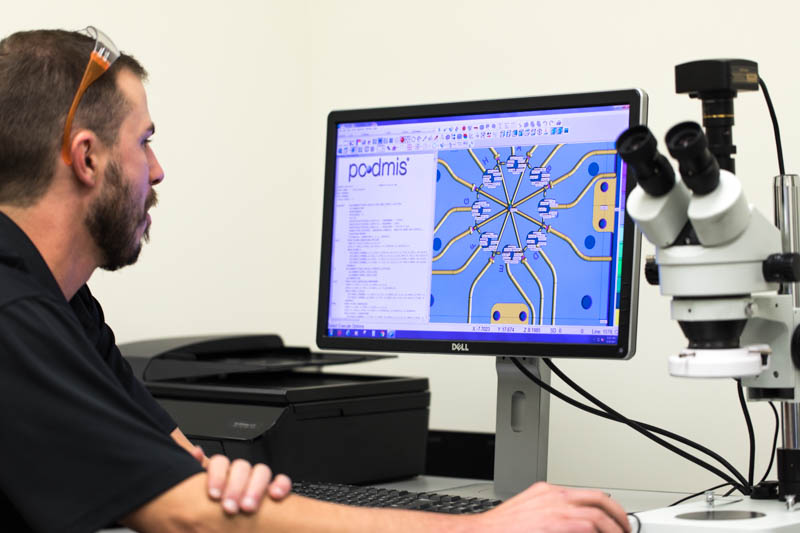 CMM inspection using PC-DMIS software
Our OGP SmartScope Flash allows us to utilize a flexible vision system for performing first article inspection on molded parts as well as small, hard-to-hold, inserts and core pins. This dimensional metrology system, in conjunction with Zone 3 Pro software and an MTR rotary indexer, provides necessary efficiency and accuracy required for inspecting tightly-toleranced molded parts.
Quality Control Equipment:
Hexagon Global Performance 575 CMM

500mm X 700mm X 500mm Measuring Range
PC-DMIS CAD ++ Software
Leitz LSP-X1C Quill Mounted Scanning Probe

Hexagon Global S Blue 5.5.5 CMM

500mm X 500mm X 500mm Measuring Range
PC-DMIS CAD ++ Software
Leitz LSP-X1C Quill Mounted Scanning Probe
OGP SmartScope Flash 500
500mm X 450mm X 200mm Measuring Range
ZONE3 Pro Metrology Software
Accucentric Auto-Calibrating Zoom Lens
Scanning Probe and Touch Probe
MTR Rotary Indexer
In-process Inspection
We inspect critical characteristics and dimensions throughout the manufacturing process. In-process inspection is the most efficient way to ensure that all components are manufactured within tolerance.
In-house Sampling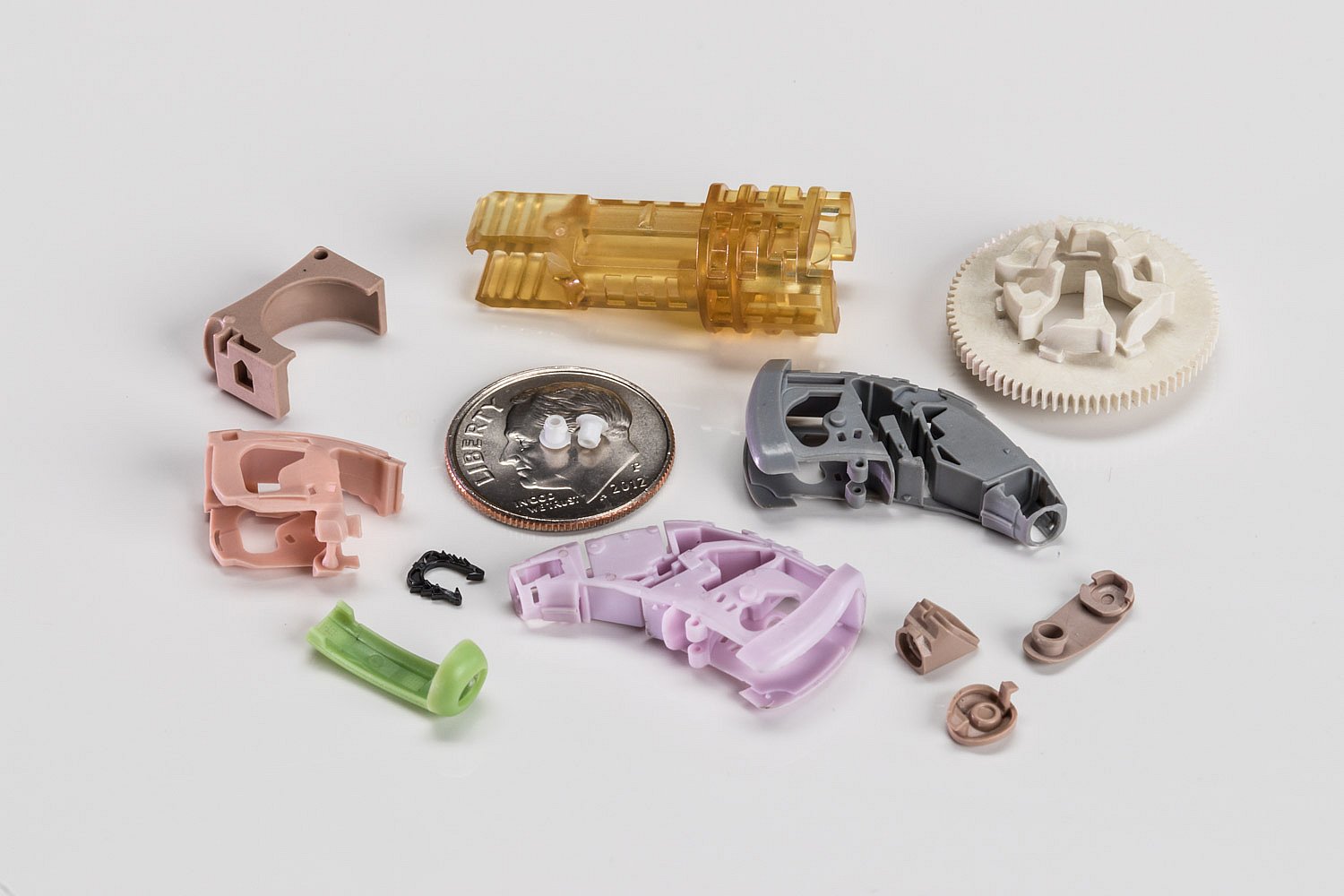 High-precision, molded parts
Mold-Tech focuses on production-ready mold, saving our customers time and money. In-house sampling allows for needed mold adjustments to be made quickly and efficiently. A dedicated sampling engineer is on staff to sample molds according to customer requirements.
Your injection mold is delivered ready to run.
Equipment: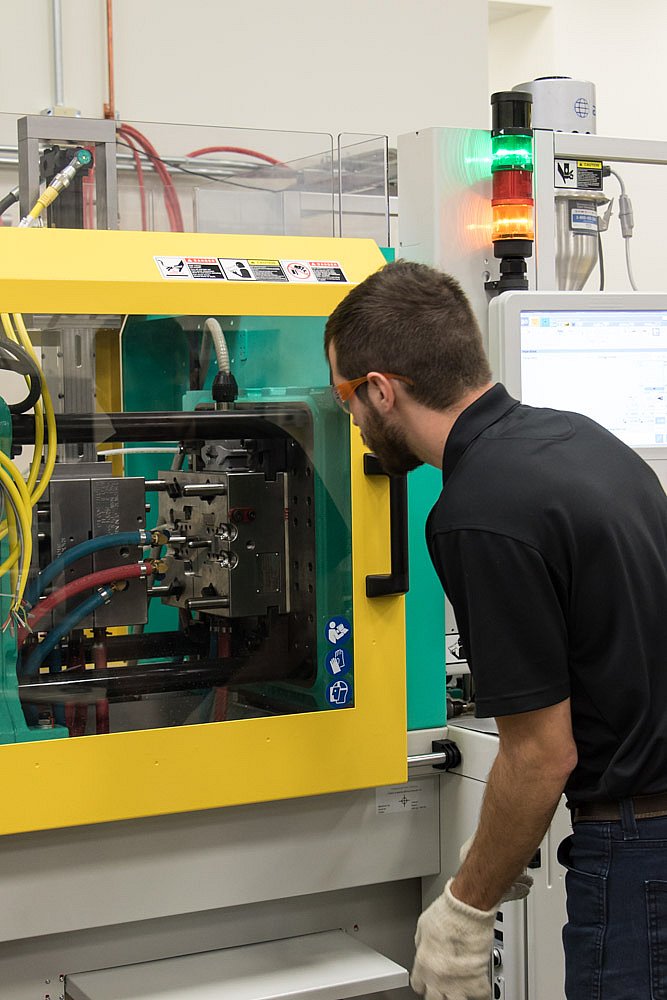 In-house injection mold sampling
Toshiba EC140SXIIV50-U34 (140-Ton) Molding Machine

(2.8oz. Barrel, All Electric, RJG Ready)

Toshiba EC110NII (110-Ton) Molding Machine


(2oz. Barrel, All Electric, RJG Ready)

Arburg Allrounder 370A (55-Ton) Molding Machine

(0.74oz Barrel, All Electric)

Hot Runner Controllers
RJG eDART process monitoring and control system
Auxiliary Equipment
Compliant
ISO 9001 Quality System

ITAR Registered
At Mold-Tech, we strive to make every customer a client for life through superior quality and support. Your injection molds are built to a higher standard. They're easily serviced anywhere in the world because components are made to the numbers and carefully documented.
You get exceptional value – a quality mold delivered on time with superior service and support.